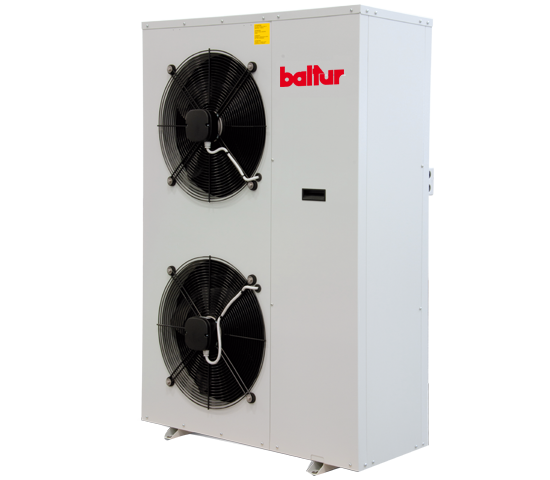 Series QUADRA 2.0 V
High efficiency water-air monoblock HEAT PUMPS with MEDIUM TEMPERATURE REVERSIBLE with Inverter
Series QUADRA 2.0 V
Frame: in galvanised sheet and coated with polystyrene powders RAL 7035 at 180 °C. +
Compressor: "twin rotary" or "scroll" type with brushless DC motor controlled by inverter and operating with R410A.
Fans: axial fans directly coupled to the 6-pole electric motor with rpm regulator.
Source side exchanger: consisting of a coil with copper tubes and aluminium fins with large exchange surface with large fin pitch.
System side exchanger: with brazed plates in AISI 316 stainless steel, operated in counterflow, optimized for operation in heating mode.
Cooling circuit: including all control and safety elements and equipped with electronic thermostatic valve.
Electrical panel: equipped with general disconnecting device, auxiliary and power circuit protection, compressor remote control switch. Management of the unit with microprocessor with main functions shown on display.
HYDRAULIC CONFIGURATION
"P" version: it includes PUMP, expansion tank, hydraulic circuit water drain valve, 6-bar calibrated safety valve corresponding to the maximum value of the allowed operating pressure.
STANDARD EQUIPMENT
• Exchanger, pump and tank anti-freeze resistors (AP versions). • External probe. • Domestic Hot Water automatic management. • Electric management (from control) of two MIXED areas. • Standard DHW management probes.
Product code
Name
Cooling Power Yield (W)
Heating Power Yield (W)